Ask Your Family Dentist About Invisalign

Did you find out at your last dentist's checkup that you or your family member are in need of braces? What if there were a way to get this common dental procedure done without having to deal with the discomfort and dramatically different appearance of traditional metal braces? Invisalign is an option that makes this possible for so many families.
What Is This New Option?
While traditional silver braces have long been the standard in teeth straightening, particularly among the young adults who tend to need them, Invisalign represents a step up in oral health technology. Instead of being cage-like structures that hold your teeth in place, Invisalign is made up of flexible trays that are nearly invisible and fairly comfortable within your mouth. Its design makes it possible for it to adjust smiles, fix bite issues and correct teeth spacing in a shorter time than regular braces.
Is It a Good Fit for Me?
Depending on your individual mouth structure and the shape and condition of your teeth, Invisalign technology may or may not be appropriate for your needs. These are some of the common teeth problems we see, which may make you a good fit for Invisalign: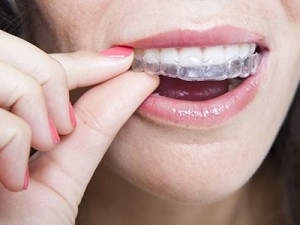 Your front teeth protrude.
Your jaw line or teeth shape is crooked or out of line due to injury, growth spurts, infection or disease.
Your smile includes spaces, missing teeth or teeth that are too close together.
You have an over or under bite or a bite that is too deep.
We Can Help You Decide
As a family dentist office that has been in practice for over four decades, we have seen many different generations of the same family while providing expert dental care in the Arlington, VA area. Can't decide between Invisalign and traditional braces? By giving our dentist office a call at 703-524-0288 today or filling out our easy-to-use request form, we can help you determine the best plan of action for you.